On July 5th, AMDA team visited two communities in the city of Osh, Kyrgyzstan, to provide necessary assistance to the displaced people in the region.
Yujnyi village in the south area of Osh:
First visit was to a Kyrgyz community in Yujnyi village located in the southern part of Osh. AMDA team donated some medical items and conducted medical consultation for the evacuees. Most of the patients were women and common cases were related to hypertension, headache, stomach complications and kidney infection that were similar to other camps.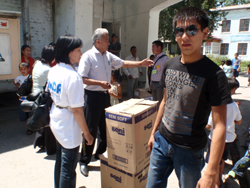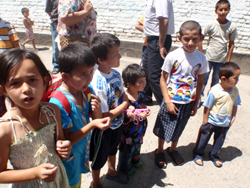 Noonkap temporary evacuation camp:
This camp was occupied by the disabled people after their care center in Osh city was destroyed during the riots. Most of the residents were blind people and their extended families. AMDA doctor conducted medical assistance to about 20 people and most of them were women.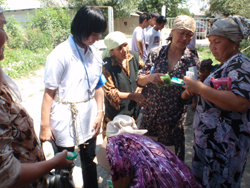 AMDA coordinator noticed that all of these camps' residents were mostly comprised of women and children because during the day time men went back to guard their property and belongings. The team also met victims of kidnapping, gunshots and gasoline burns. All camps suffer from lack of basic needs and almost have no medical care.
By further working with Kyrgyzstan's government and other local organizations, AMDA would explore the ways to support the people of the country. AMDA is looking forward to formalizing working partnerships with Center Interbilim and the Association of Young Entrepreneurs.
AMDA team completed its relief mission and returned home on July 7th.